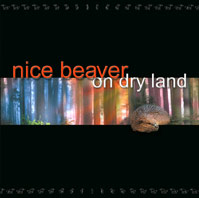 culley on bleeker street

oversight

wintersong

hope you don't mind

like this

where the river runs

we are the sun

Peter Stel - Bass
Erik Groeneweg - Keyboards, Lead Vocals
Hans Gerritse - Guitars, Lead Vocals

On Dry Land
Oregon



Related titles:
Sampler 5
Sampler 6





CYCLOPS had to fight off many other labels to be able to release this first album from Dutch group Nice Beaver.

Inventive songs which have catchy choruses and fine weaving guitar solos are the order of the day.

The sound of New York traffic introduces the album from which a hypnotic beat introduces "Culley On Bleeker Street" a driving song with an infectious chorus, a great inventive guitar solo and supporting synths.

Each track is a driven inventive song with fine weaving guitar solos and great keyboard work. With two fine lead vocalists they create memorable hooks, like in the tracks "Where The River Runs" and "Hope You Don't Mind", which keep the tunes springing back to mind for many days after.

Another winner from the CYCLOPS label.