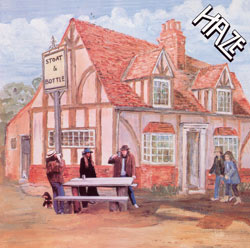 Stoat & Botttle

See Her Face

In The End

In The Universe

Humbug

The Vice

Autumn

Resealing

Tunnel Vision

Ophelia

Shadows

Fading Away

Last Orders


Bonus Tracks

Into The Fire

Another Country

Safe Harbour

Wooden House

Stone House

Chris McMahon - Bass, Keyboards
Paul McMahon - Guitars, Vocals
Paul Chisnell - Drums
World Turtle
C'est La Vie / Ember
20th Anniversary Concert
Cellar Replayed
Stoat & Bottle
30th Anniversary Shows
Sampler 1
Sampler 2
Related Titles:
Von Daniken - New Worlds
World Turtle - Wilderness of Eden
Sampler 4

Stoat & Bottle is the last part of the trilogy bringing the Haze back catalogue on to CD. The original master tapes were brought out of the archives and have been remastered by Haze founder Chris McMahon. In addition to the original tracks are an extra five great bonus studio tracks that were recorded in the same year.
For those who have still not heard this classic band, who are still going strong after 30 years, then they could do no worse than start with this great album.
Excellent melodic prog with great keyboards and guitar work.