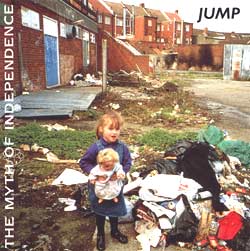 Tower of Babel

Princess of the People

On the Wheel

Heaven and Earth

Runaway

Keep the Blues

Blind Birds

Drivetime

Valediction

On My Side

The Shallow Man

| | | |
| --- | --- | --- |
| | Andy Baker | Drums |
| | Hugh Gascoyne | Bass |
| | Pete Davies | Guitars |
| | John Dexter Jones | Voice |
| | Steve Hayes | Guitars |
| | Mo | Keyboards |
Other

Living In A Promised Land
The Freedom Train
Matthew
And All The Kings Men
On Impulse
Home Songs




Jump's fourth CD, their first on the CYCLOPS label, continues to demonstrate the rich diversity of mood, texture and musical style for which they persistently receive wide acclaim througout the UK and Europe.

Mark Kelly of Marillion has seen the great potential of this band and offered to produce and play on the album. He will also be helping to promote the band through all the Marillion connections (i.e. fan clubs, conventions, support gigs to Marillion) that he can.

Jump's original combinations of strong lyrics and melody, combined with attacking guitar and keyboards have had them compared to Led Zeppelin, Marillion and Talking Heads.

Melodic hard rock with colour and imagination, always imaginative, slightly theatrical.