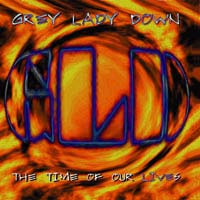 Disc One
Disc Two
1. And Finally
2. Final Decree
3. The Nail
4. Rollercoaster
5. A Modern Day Cavalier
6. Without A Trace
7. The Perfect Dream

1. Battlefields Of Counterpane
2. The Crime (parts 1 - 3)
3. Thrill Of It All / The Flyer
4. 12:02
5. Annabel

The Crime
Forces
Fear
The Time Of Our Lives (2CD)
Live - The Official Bootleg



Related Titles

Sampler 1
Sampler 2



On Saturday 11th July Grey Lady Down played their last ever gig at the Astoria, London before finally calling it a day. CYCLOPS were there and recorded the whole concert for this 2CD set of superb music and sound quality.
The GLD boys were on top form that night and we are treated to tracks from all three of their previous albums including a 30 plus minute "The Crime - parts 1,2 & 3" played for the first time as a complete work. Along with all the well loved favourites is a previously unrecorded 20 minute epic that they finished after recording the Fear album. The whole release is worth buying for this track alone!
Altogether a great epitaph for a band who were easily one of the best of the British 90's prog groups.