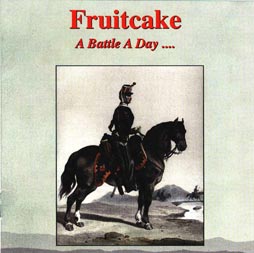 Mopery And Dopery In Deep Space (8:03)

One Night (3:46)

Reaching Out (8:19)

Stories One Hears (5:44)

Water Colours (6:36)

The Old Man (8:12)

This Room (10:02)

Thundercloud (6:12)
Pål Søvik - drums, vocals
Helge Skaarseth - keyboards, mandolin
Robert Hauge - guitars, backing vocals
Olav Nygard - bass, bass pedals







How To Make It
Room For Surprise
One More Slice
Power Structure
A Battle A Day
Man Overboard


Related Titles
The Guardians Office
Sampler 2
Sampler 3
Sampler 4
Sampler 5

After the success of the last CD (Power Structure CYCL 073), Fruitcake return with their strongest material to date on this their 6th CD.
Great songs with blistering guitar work by Robert Hauge with weaving keyboards and great deep bass lines on the many instrumental sections. Fruitcake are joined by Anngunn Sorli whose counterpoint vocals complement Pål Sovik's voice.
Listen to the wonderful This Room with the superb melody accentuated by keyboard and guitar leads. The Old Man contains a fiery guitar solo which is worth the price of admission alone.
Fans of Fruitcake will be wanting this one for their collection as will all others into symphonic progressive music.