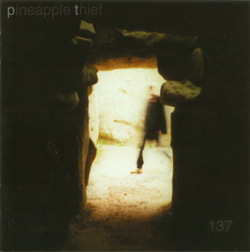 lay on the tracks

perpetual night shift

kid chameleon

incubate

doppler

ster

137

release the tether

how did we find our way?

preserve

warm me

pvs

md on


Bruce Soord - guitars, vocals, keyboards, samples and programming
Adrian Soord - mellotron, fender rhodes, prophet 5, piano, misc synths
Nick Lang - drums and percussion, backing vocals
Mark Harris - bass guitar

Abducting The Unicorn
137
Variations on a Dream
12 Stories Down (2CD)
10 Stories Down (1CD and 2CD)
4 Stories Down (EP)
Little Man
What We Have Sown

Related Titles
Vulgar Unicorn - Under The Umbrella
Vulgar Unicorn - Sleep With The Fishes
Vulgar Unicorn - Jet Set Radio
Vulgar Unicorn - What About A Robot With A Human Brain?
Vulgar Unicorn: Persona Non Grata - The Fine Art Of Living
Lands End - The Lower Depths (Bruce guesting on some tracks)
Sampler 2
Sampler 3
Sampler 4
Sampler 5
Sampler 6





After the great success of the first Pineapple Thief album (Abducting The Unicorn CYCYL 079), here is a stunning set of new songs.

Although very much in the Vulgar Unicorn / Porcupine Tree vein it is a little more guitar orientated. The result is a far less esoteric sound than Vulgar Unicorn and, in many ways, more Progressive and modern sounding.

Some great and memorable songs such as "Kid Chameleon" and "How Did We Find Or Way ?" are interlaced with killer guitar riffing and lead lines by leader Bruce Soord. Layering the whole sound is a 70's mixture of mellotron, Fender Rhodes, Prophet 5 and analogue synths, along with a string section

"PVS" is the longest track and starts with an acoustic coda which develops into a lovely song with oboe and strings. Crunching power chords propel the track into a frenzied electric guitar solo workout that leads to an end section of a beautiful acoustic guitar, string quartet and piano coda.

Over an hour of inventive prog, mixing 70's and 90's styles. This is an album for anyone who likes Vulgar Unicorn, Porcupine Tree, Radio Head and No Man.