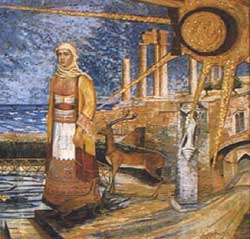 1. A Ripple (from Ragged Curtains)
Marriage of Heaven and Hell
2. Tightrope
3. A Place To Hide
4. Where Do All The Madmen Go?
5. Stronger
6. What Is It Worth?
7. Weaver of Dreams
8. Ragged Curtains

a) Flow
b) Sea
c) Waves
d) Stone
e) Tides
f) Sand
g) Undertow
h) Ebb
Guy Manning : Vocals, Keyboards, 6 & 12 String Acoustic and Electric guitars, E-Bow, Bass Guitar, Mandolin, Peace Harp, Chimes, Drums & Percussion

Rick Ashton: Bass
Jonathan MacDonald Binns: Drums
Laura Fowles: Vocals, Saxophones

Gareth Harwood : Electric Guitar

Neil Harris: Keyboards & Percussion

Guests:

Angela Goldthorpe provided Flutes & Recorders (Courtesy Of 'Mostly Autumn')
Andy Tillison-diskdrive played organ on "Sea" and Analogue Synth on "Sea & Waves" (Courtesy of Parallel or 90 Degrees)









Tall Stories For Small Children
The Cure
Cascade
The Ragged Curtain
The View From My Window


Related Titles
Parallel or 90 Degrees - The Time Capsule
Parallel or 90 Degrees - No More Travelling Chess
Sampler 4
Sampler 5





Manning's new album is centred on the 26-minute epic concept piece "Ragged Curtains" and is about the relationship between Man and the elements of Sea, Stone, Sand etc:
Man compared to the Waters (Flow - Tide coming in - intro) Man fears the Sea (Sea), Man builds Fortresses against the Sea (Stone), Man watches the Seas race around the World (Tides) and eyes the Ragged Curtains (The Waves on the sand) with suspicion, Man measures his own mortality with Sand (in hourglasses etc.) , but Man is, in the end, comparable to those Waters (Ebb -Tides going out - Out)

Guy's songwritting is on top form here and he has allowed the group more instrumental passages for guitar, keyboards/Hammond and flute/sax solo work to grab your attention.
Guitarist Gareth Harwood is in particularly fine form with some sharp attacking solos and sometimes indulging in some twin lead duelling passages.

Flute and Sax work is provided by Laura Fowles and Mostly Autumn's Angela Goldthorpe together adding some really melodic work throughout the album. Multi instrumentalist Guy Manning's Hammond work is as strong as ever as the band really rock out in some places

Without a doubt Manning's best work to date and a must for those who know his work as well as one for those who have not been converted yet.