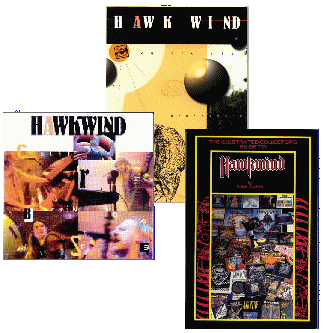 1. Voids End
2. Ejection
3. Brainstorm
4. Out of the Shadows - Eons - Night of the Hawks
5. TV Suicide - Back in the Box - Assassins of Allah
6. Propaganda
7. Reefer Madness
8. Images
The CD
A recent live release from the Hawks recorded live at the Omni in Oakland, California on December 16th, 1990.
Joining the classic current lineup of Brock, Davey, Chadwick and Bainbridge is female vocalist Bridgette Wishart. The song fare is a mixture of classic Hawkwind compositions plus the bonus track Images. In typical Hawk fashion ther are two segue-style offerings lasting in the neighbourhood of twenty minutes.
The result: over 74 minutes of mass psychedelia!
The Book
The Illustrated Collector's Guide to Hawkwind-- a 176 page paperback which chronicles the band from its inception, with a full archive of all official (and unofficial) releases, including pictures of the covers! There is also and exclusive interview with sci-fi author Michael Moorcock.
Both the CD and book are released for the first time outside the US