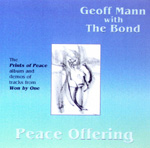 Gateway To Heaven

Sob Stories

High Ground

Seriously Siblings

Don't You Wait

Stranded

Looking For Love

Table Talk
~~~~~~~~~~~~~
Too Modern

His Love

After The Storm

Certainly

Willy Welsh









In One Era
Peace Offering
Sampler 1


Related Titles
Twelfth Night - Live and let live
Twelfth Night - Collectors item
Twelfth Night - Fact and fiction
Sampler 4
Sampler 5





This is a must for all Geoff Mann fans and those that like Twelfth Night and melodic prog in general.

The original album Prints Of Peace has been remastered from the original master tapes and has been denoised and computer enhanced for superb sound quality.

As extras we have five tracks from the Pullman sessions which appear here in all their glory for the first time anywhere. These have also been remastered etc., to give a total running time of 74 minutes.

The booklet will also have unreleased photos and artwork of Geoff.