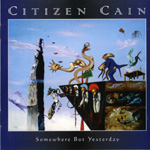 Jonny Had Another Face
(Parallel Lines)

Junk And Donuts
(An Afterthought)

To Dance The Enamel-Faced Queen
(Beyond The Boundaries)

Somewhere But Yesterday


(i) Owls
(ii) Obsessions
(iii) The Ballad Of Creepy John
(iv) Echoes - The Labyrinth Penumbra
(v) All The Sin's Men
(vi) Farewell


(A Word In Your Ear)

Strange Barbarians
(The Mother's Shroud)
Stewart Bell - Keys
Nick Arkless - Drums
Andy Gilmour - Bass
Alistair MacGregor - Guitar
Cyrus - Voice

Somewhere But Yesterday
Raising The Stones
Serpents in Camouflage
Sampler 4






Only previously available as a hard to find Dutch release - this album has its first British release on CD. Citizen Cain come from Scotland and are an early Genesis inspired band. Their first album Serpents in Camouflage, now deleted, showed their early promise which was enhanced with this second offering. With four tracks around the 10 minute mark and a 25 minute epic - this is for those that love the early Genesis sound and Progressive rock in general.